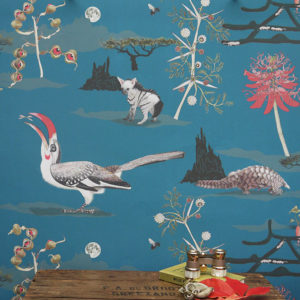 Lewa Union Wallpaper
(Price above is per sample - please email us for the full pricelist.)  This design is based at the Lewa Wildlife Conservatory in Kenya. This incredible place was a cattle ranch 40 years ago and has been transformed by the Craig family into one of the most successful private wildlife conservation initiatives in the world, and a UNESCO World Heritage Site. There is a theme of myrmecophagous species that specialize in ants and termites. The species featured in this design include Jackson's hornbill, termite mounds, a young aardwolf, A mother Temnick's ground pangolin with her baby riding on her back, a colony of naked mole rats, a carpenter bee, and lucky beans tree, whistling thorn acacia (which has an incredible symbiosis with biting ants), and the full moon setting over Mount Kenya, as visible from Lewa. With exquisite botanical detail, this design builds upon the current passion in interiors for honouring the natural world.
£

1
Add to cart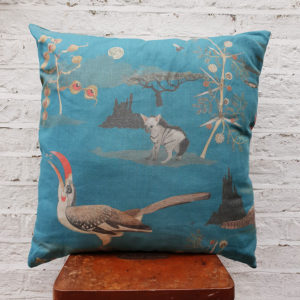 Read more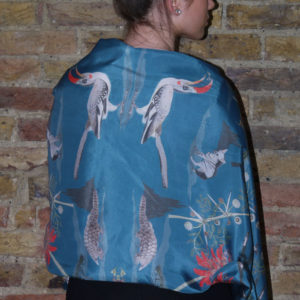 Lewa Union Silk Wrap
An elegant double sided silk wrap measuring 50 cm wide and 200 cm long. It is digitally printed using environmentally-friendly process on 35 g per m2 weight Habotai silk. Lovely drape and versatile styling. Dry cleaning is recommended. Lewa Union is an African design celebrating unusual species, ants and termites - tiny superheroes - and the species that depend on them.
£

195
Add to cart