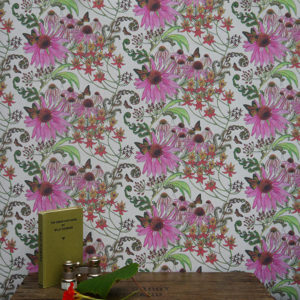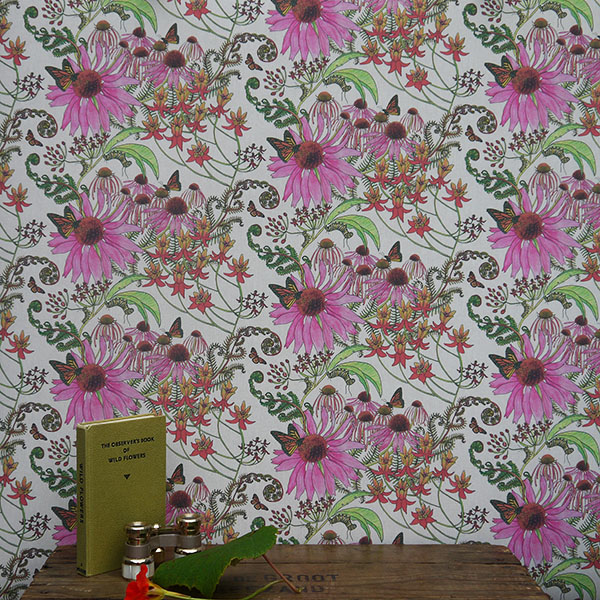 Carolina Monarch Wallpaper
This medium scale print celebrates the migratory Monarch butterfly whose larval food-plants, the milkweeds, have been depleted to critically low levels by herbicides. The population of monarchs that spends its summers in the Carolinas, undertakes an incredible multi-generational migration every year to forests in Mexico where they overwinter. Plants like echinacea provide them with rich sources of nectar for this journey. As well as Echinacea purpurea, the most common of the coneflowers, this design features Echinacea leavigata, an endangered coneflower native to North Carolina. Companion prints include Carolina Parakeets and Carolina Posies.
£

240
Select options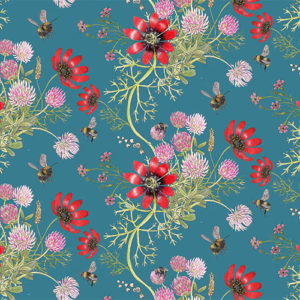 Mercia Bees
Mercia Bees is a smaller scale print in the English Mercia collection, with a 6'' horizontal half drop repeat. It features the short-haired bumblebee, a species driven to extinction in England, but recently reintroduced into specially planted flower-rich meadows in the region of Dungeness. The bees are foraging on clover, and pheasant's eye, a rare wildflower introduced to the UK in Roman times.
£

132 –

£

164
Select options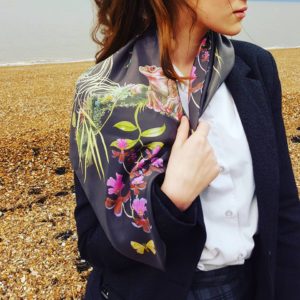 Rabb's fringe-limbed tree frog silk scarf
A delicate and detailed design with hand-drawn illustrations on slate grey with flashes of magenta, burgundy, greens and yellows. It is of an elegant neckerchief size: 60cm2. This vibrant silk scarf commemorates the Rabb's fringe-limbed tree frog and species with which it was found in the Valle de San Anton of Panama. This extraordinary species, which was declared extinct on September 26, 2016, could sail through the air, change colours, and had an incredible way of providing snacks for its tadpoles. To learn more about this species read my
blogpost
. For every scarf purchased, £20 goes to support the
Amphibian Survival Alliance
.
£

95
Add to cart