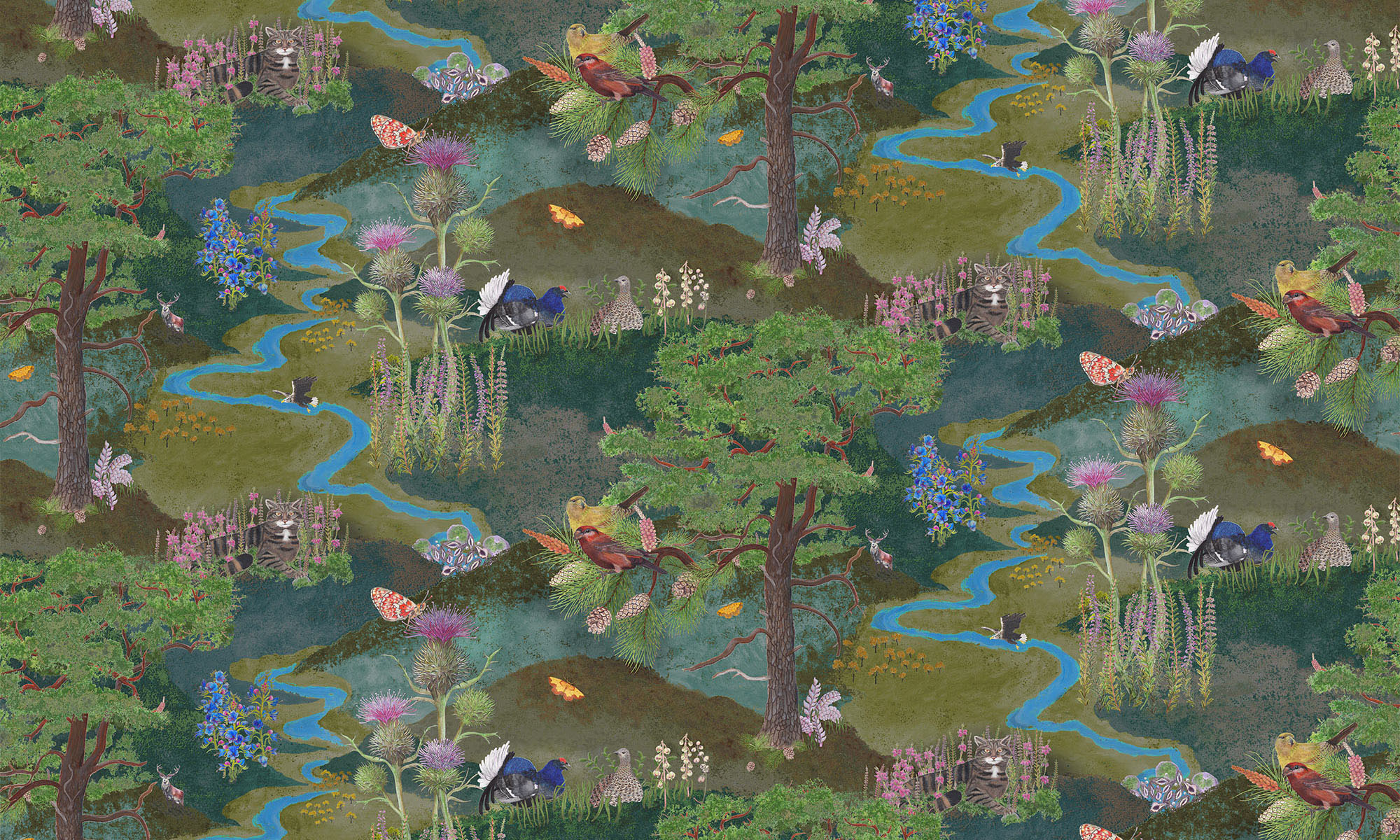 And the walls became the world all around…
Conservation biologist and designer Dr Susy Paisley creates lavishly illustrated designs that honour the specific wild flora and fauna of your site. Following your design brief in terms of style and palette, the designs are then sustainably produced as printed fabrics, wallpaper and handmade rugs. Projects can be for private residences and boutique hotels or for retail, corporate headquarters, restaurants, museums or other public buildings. No run-of-the-mill patterns here – Susy's designs enchantingly depict real wild nature, transforming our interiors, and increasing our engagement with the world outside.
(quote above by Maurice Sendak, Where the Wild Things Are)
How does it work?
The basic steps in creating a bespoke design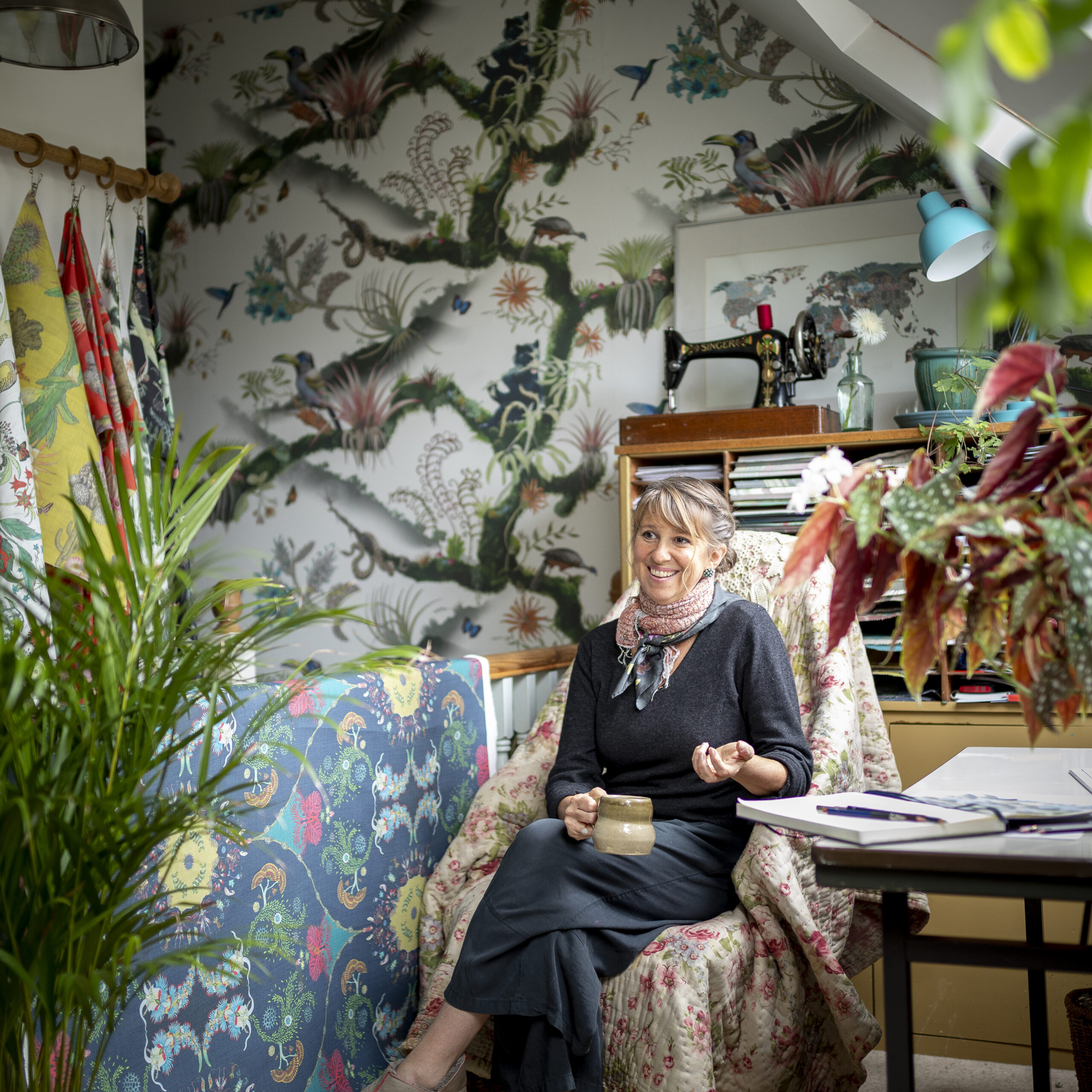 1. Consultation:
The first step of the commission is to have a thorough conversation about the scope of the project. It is important for us to understand how the design will be used and the feel you would like for the design. We will need to gain a sense of what is important to you. We will be eager to gather any favourite species and your general response to various animals and plants – for example if you have any aversions or sensitivities. Most bespoke projects will be related to a particular site. Alternatively, if your business or client has a commitment to a particular conservation project, that could be the subject of the design. We will quote for the project and check back in regularly as the following steps proceed.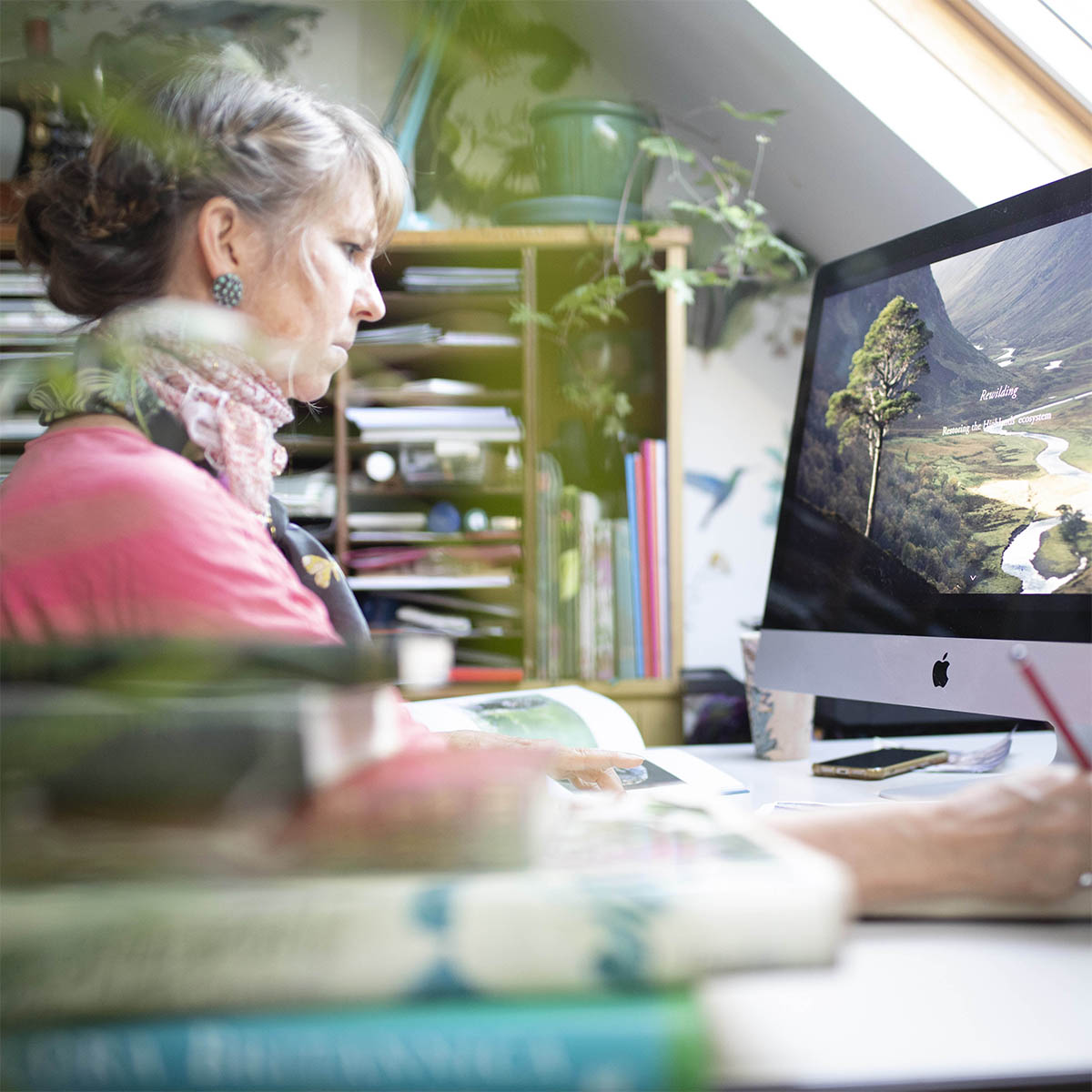 2. Research:
Everywhere in the world has an ecological setting and story to tell about wild species. It can be species that were once native to the region, species that migrate through, one particular species of interest and the species with which they interact. It could be a botanical story with the relevant pollinators, or a whole suite of species. We will research the biodiversity action plans and biological surveys for the region. There is always a process of selecting species to focus on that have an aesthetic appeal as well as a scientific, cultural and sometimes personal importance.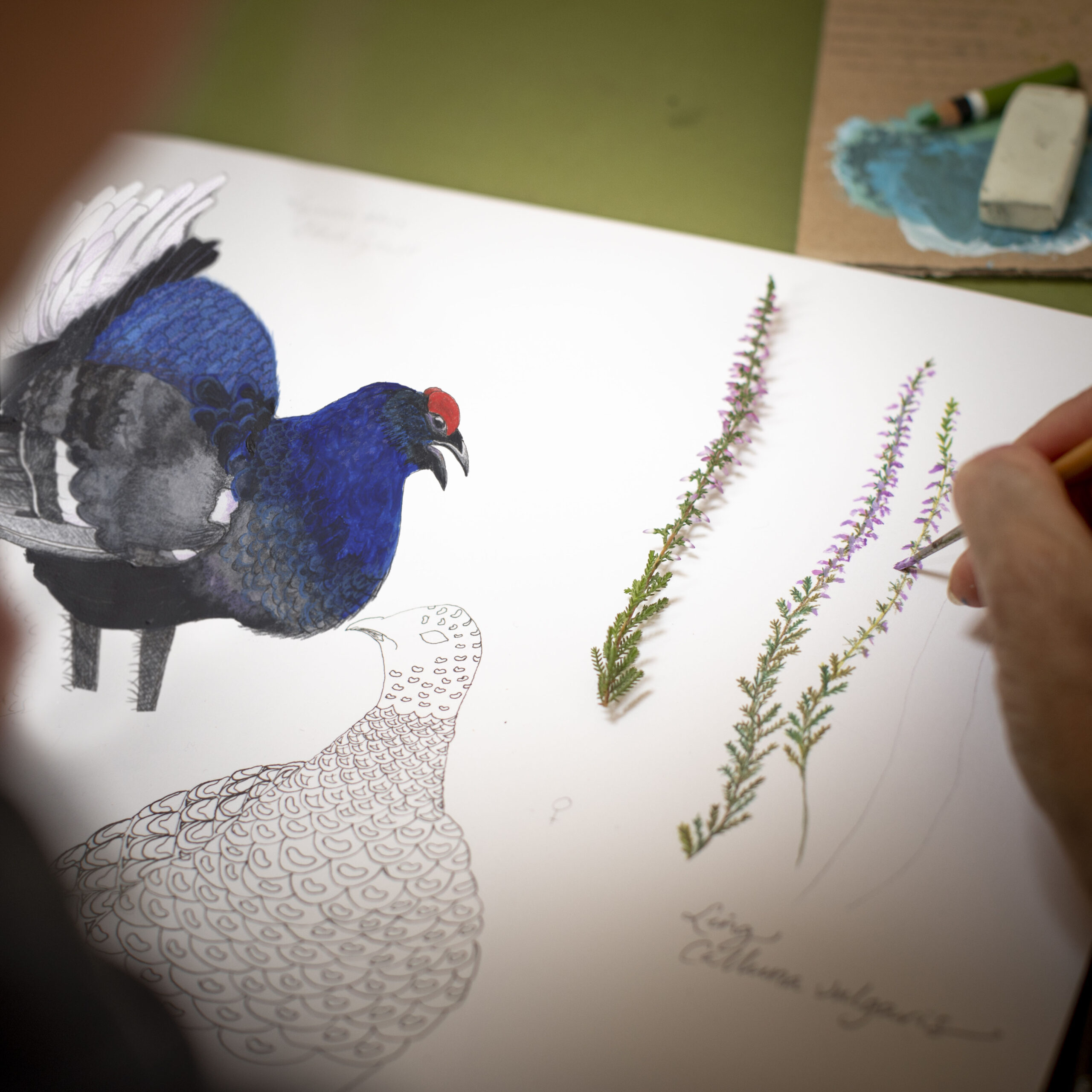 3. Illustration:
Here at Newton Paisley HQ we have a wonderful collection of old guidebooks. Susy is a fellow of the Linnean Society with strong links to the Zoological Society of London and the Natural History Museum, so we have access to wonderful reference materials. SUsy uses pen and ink, coloured watercolour pencils, and paint. Never having been formally trained as an artist, she mixes media and techniques without constraint. For example, in the Scottish Highlands design shown above, to create the rough textured feel of the hills, paint was applied to the hills using small tufts of moss collected from the local woods. The illustrations are done separately and so can be combined in different designs and configurations.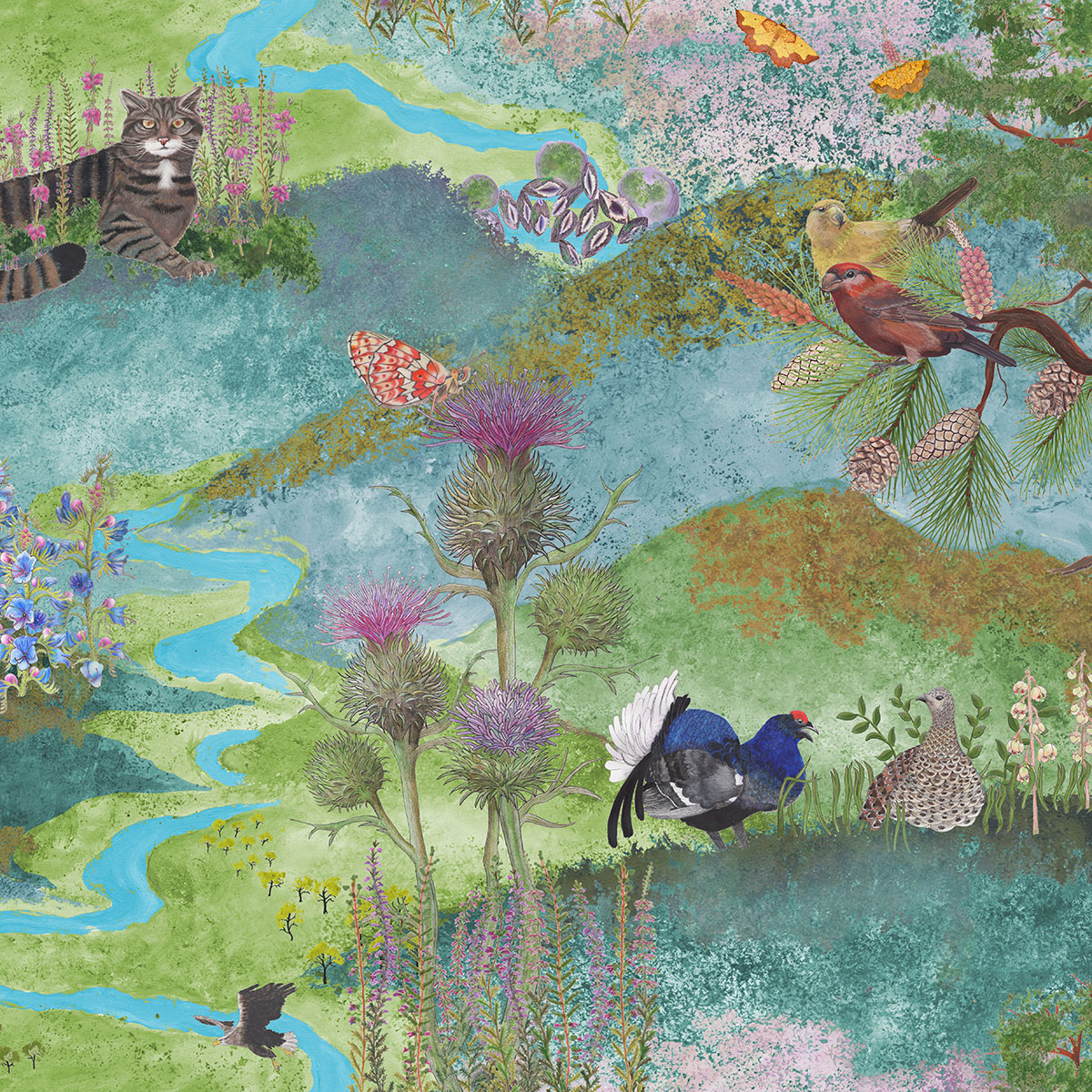 4. Composition:
The illustrations are scanned and assembled into a repeating pattern using Photoshop. The composition of the design will be agreed upon earlier in the process, so that this part of the process is technical – executing a concept that was previously conceived. Depending on the details of the commission, more than one design can be produced, and various colourways can also be created for fabrics, wallpapers and other applications including rugs, ceramics, stationary, etc.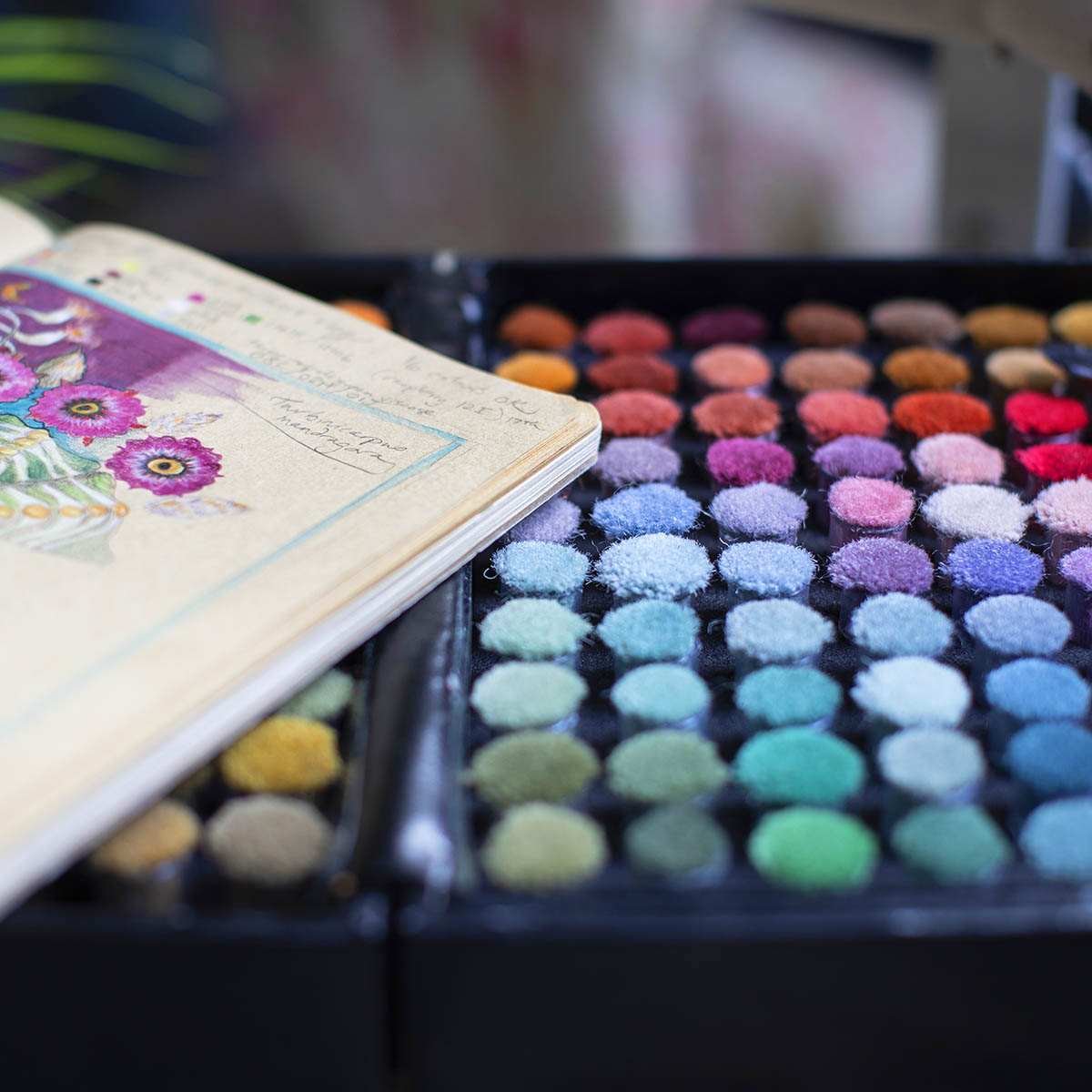 5. Production:
Once your designs are completed, we are ready to proof the products. We produce highest quality giclee printed non-woven wallpapers, and pigment printed pure linen. We are able to send samples of these products so that you can confirm the colours before fulfilling the order. We can also proof the colours and quality of rugs. In some cases, clients may prefer to carry out their own manufacture of the products of this process. There are several possibilities for production and intellectual property which we will plan at the outset. You may prefer to have a design that is exclusive to your home or project and to own the IP and copyright, or you might allow the design to be added to the Newton Paisley range. These decisions will all have an impact on the design fee.
In any case, you can rest assured that the quality of the production of all of our products is high-quality and eco-friendly and that your design will be a completely unique evocation of your surrounding wild nature. 
Please be in touch with any enquiries or ideas for your own bespoke design