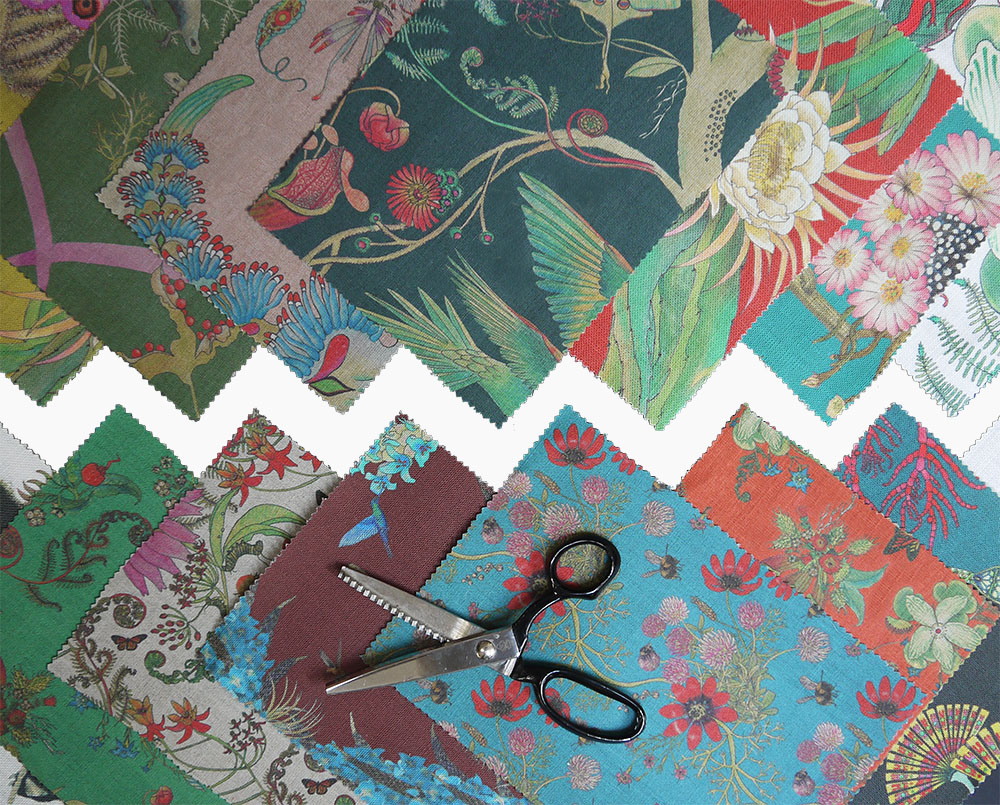 Linen
We are delighted to send out samples of our printed linen. Fabric samples are £2 each and they can be ordered by adding to the cart from the designs below. They will be sent on their way to you as soon as possible.  Meterage or fabric can also be ordered on this page. Fabric will be sent as one length, and printing to order will take one to three weeks. If you have any questions, please contact us at info@newtonpaisley.com
The Carolina Tree of Life collection:
The Carolina Tree of Life, tells of the Carolinas in the American south, the home of Anne Newton Paisley, after whom the business was named. The flowing design features the extinct Carolina parakeet, the migratory Monarch butterfly - facing an urgent battle for survival - and carnivorous native plants such as the Venus fly trap. 
Carolina Tree of Life
The Carolina Tree of Life print, above, is a large scale print available in Neutral, White and dark Prune background colourways. It is complimented by the following companion prints:
Cactus Mexicanos Collection
This design is the culmination of several years Susy spent living in and in love with Mexico and a recent return trip this summer. It celebrates the incredible diversity of Mexican cacti. Mexico is one of the world's centre of endemism for this group of plants, and includes marvels like the Creeping Devil, a cactus in this design which actually moves across the desert floor! Cacti are enjoying a new popularity, but globally, one out of three cacti is in need of conservation attention.
Cactus Mexicanos
Cactus Mexicanos is offered in six colourways, as wallpaper and as printed linen. 
The English Mercia collection:
The English Mercia collection is a tribute to one of the greatest conservation parables ever written, The Lorax by Dr Seuss. The designs are based on real species extant in England (in the realm of the ancient kingdom of Mercia) that relate to the imaginary species in the Lorax. The humming fish are represented by great crested newts, the precious truffula trees are clover flowers the playful barbaloots are the red squirrels, whilst the Lorax himself is the nightingale, pleading for the preservation of the ancient woodland. Ancient woodland is a critical conservation priority in England, as 98% of the centuries-old forest has been destroyed.  Learn more about this Award Wining Design. 
English Mercia
This large scale English Mercia print above is available with background colourways of Neutral, White, Slate and Deep Blue. This main design is joined by the following complimentary prints:
Madidi Clouds Collection
The Andean spectacled bear, a mysterious and endangered species and inspiration for Paddington Bear, was the focus of my years of study in the Andean cloud forest of Bolivia's Madidi National Park. During long periods spent alone for my research, I became obsessed with the intricate patterns and colour around me. Lichens, thin-lipped frogs, hummingbirds and toucans, along with my bears, were the subjects of my detailed drawings, and have formed the basis of this design. 
Madidi Clouds
Madidi Clouds is available in Natural, White and Midnight background colourways. It is offered as a very large print (full width repeat), and a large print (half width repeat).