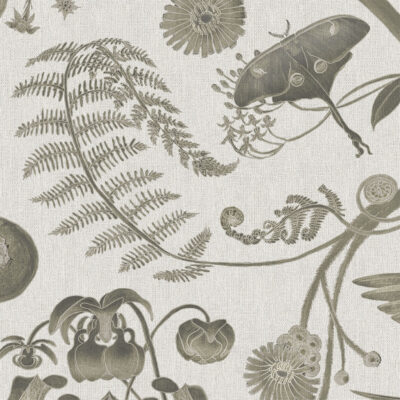 Toile Parakeets
The Carolina Tree of Life collection celebrates the natural history of the Carolinas in the American South, where biologist and designer Susy Paisley spent much of her childhood. This design inspiration comes from free-flowing 17th Century tree of life prints. It depicts flora and fauna of the region including: the extinct Carolina parakeet feeding on cockleburrs, and the Monarch butterfly (whose milkweed dependent migratory life cycle is critically endangered). Also present are carnivorous native plants such as the Venus flytrap and the Mountain Sweet pitcher plant and wildflowers like the Devil's paintbrush, Grass of Parnassus and Gray's lily. Flying creatures include a Yellow-bellied sapsucker, a Luna moth and a Painted bunting. The black-chinned red salamander is native to the southern Appalachians, which have the greatest diversity of salamanders in the world.
Here it is reimagined as a Toile de Jouy.
This design is part of The Beatrice Edit. With exquisite botanical detail, it builds upon the growing passion in interiors for honouring the natural world. Furthermore, for every roll of wallpaper sold, 100m2 of critical wild habitat is preserved through World Land Trust. Ten percent of profits will also go to support Rebuilding Together in Ukraine.
£

1 –

£

258
Select options