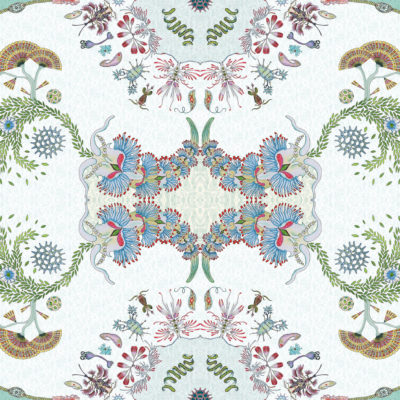 Paisley Paramecium Wallpaper
Paisley Paramecium is a textile and wallpaper design celebrating the web of micro-organisms that forms the base of the pyramid of all life. The inspiration for this design was a play on the traditional tear-drop shape of the classic paisley motif resembling a unicellular organism called a paramecium.
The species in this design are aquatic, including many free-floating plankton upon whom the health of all marine creatures depends. Phytoplankton are also of serious conservation concern – warming oceans have caused population declines of 40% since 1950. Change is desperately needed in how we perceive our interconnectedness within, and dependence upon, the web of life.
As well as evoking droplets of water, as well as using the conventions of the paisley design, it is also reminiscent of stitching and lace, as the fabric of nature is fragile and intricately interwoven and embellished. The colouration is quite free, and can be further expanded upon in the future, as many of these species are really transparent.
To learn more about the design, please check out the blog post.
(All colours are available on both paper bases and also at both scales, although we may not offer that specific sample. If your combo is not available, we suggest ordering the colour you want to get the process started. The samples are not very useful for the large scale, so we only offer Aqua, 37A, as a sample to give an idea of scale and the medium size for the rest to see the colours.) 
This is an eco-friendly Fine gicleé digitally-printed "real" wallpaper. It is printed in the UK on a natural non-woven cellulose-based substrate made from recycled materials – recycled polyester (PET) fibre and recycled wood pulp. The production process is solvent free with minimal waste and energy inputs.
£

1 –

£

518
Select options