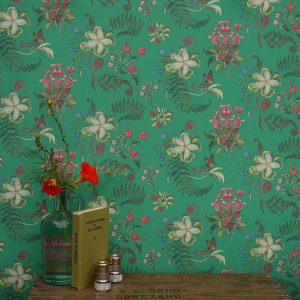 Carolina Posies Wallpaper
The Carolina Tree of Life collection celebrates the natural history of the Carolinas in the American South, where biologist and designer Susy Paisley spent much of her childhood. Carolina Posies is a lush, hand-drawn design which celebrates wild species of the Southern States of the Carolinas. The designer is a conservation biologist who grew up in this beautiful area. The rich colors and graphic details are matched by the interest of the many extraordinary species depicted, including monarch butterflies and their larval foodplants, milkweed, Carolina Reaper chilli peppers, devil's paintbrush, pine barren gentian, grass of Parnassus and carnivorous plants. It is a detailed botanical with an enchanting meandering feel. Companion prints include Carolina Tree fo Life and Carolina Monarchs, featuring details from this larger scale design.
£

240
Select options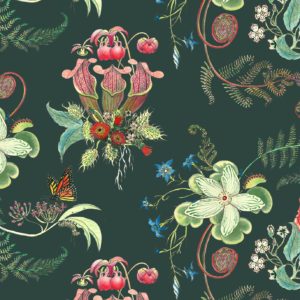 Carolina Posies Linen
A simpler medium scale companion fabric to the Carolina Tree of Life available in 7 colourways.
£

132 –

£

156
Select options
Carolina Tree of Life Parakeets Linen
The Carolina Tree of Life tells of the Carolinas in the American South. The flowing design features the extinct Carolina parakeet, the migratory Monarch butterfly facing an urgent battle for survival, and carnivorous native plants such as the Venus fly … Read More
£

132 –

£

156
Select options