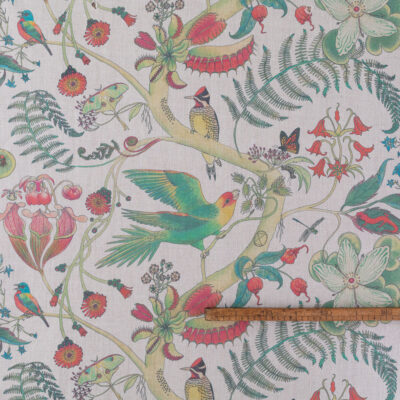 Carolina Parakeets Linen
Carolina Tree of Life is a lush, hand-drawn design which celebrates wild species of the Southern States of the Carolinas. The designer is a conservation biologist who grew up in this beautiful area. The rich colors and graphic details are matched by the interest of the many extraordinary species depicted, including the extinct Carolina Parakeet and iconic species like the painted buntings, red salamanders, monarch butterflies (facing an urgent battle for survival), chilli peppers and carnivorous plants like the Venus Fly trap. The design itself has a contemporary feel but draws heavily on traditional 18th century French Tree of Life designs.
£

2 –

£

156
Select options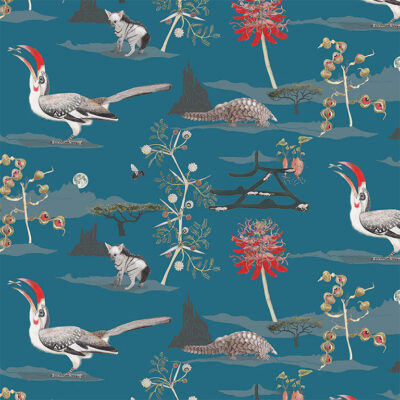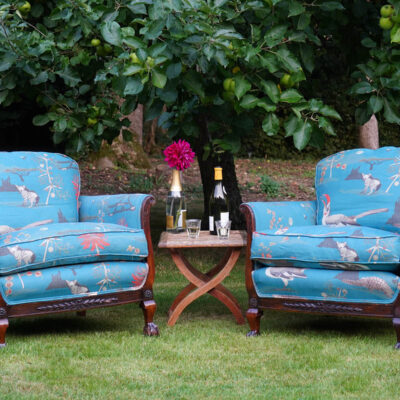 Lewa Union Linen
This design is based at the Lewa Wildlife Conservatory in Kenya. This incredible place was a cattle ranch 40 years ago and has been transformed by the Craig family into one of the most successful private wildlife conservation initiatives in the world, and a UNESCO World Heritage Site. There is a theme of myrmecophagous species that specialize in ants and termites. The species featured in this design include Jackson's hornbill, termite mounds, a young aardwolf, A mother Temnick's ground pangolin with her baby riding on her back, a colony of naked mole rats, a carpenter bee, and lucky beans tree, whistling thorn acacia (which has an incredible symbiosis with biting ants), and the full moon setting over Mount Kenya, as visible from Lewa. With exquisite botanical detail, this design builds upon the current passion in interiors for honouring the natural world.
£

2 –

£

156
Select options