Showing 41–47 of 47 results
Sale!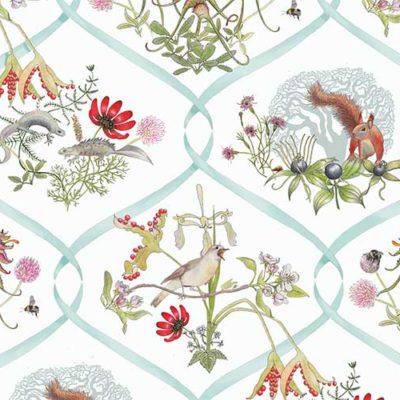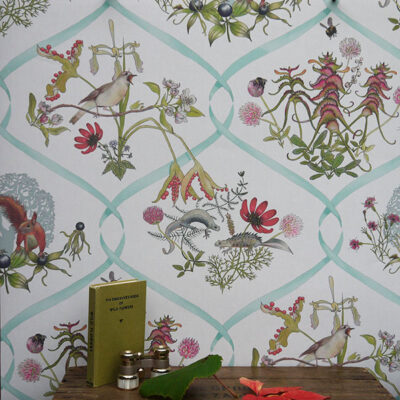 Mercia Ribbons Wallpaper Stock
Stock sale 
This pattern shows English species suggested to me by the imaginary species in Dr Suess's The Lorax. It is organised in an ogee pattern, made of ribbons. They remind me of the double helix of the DNA that determines how we all turn out, every living thing, and of chain link fences, and breaking through them to get out into nature.
The humming fish are represented by great crested newts, the precious truffula trees are clover flowers whilst the playful barballoots are the red squirrels. The bees which also feature in a companion print are short-haired bumblebees – a wonderful conservation success story as they were extinct in the UK but acres of flower-rich meadows were planted in Kent, the bees were reintroduced and are now thriving. Other flowers include several species of clover, Pheasant's eye, crested cowwheat, Stinking iris, whorled millifoil, Carthusian pinks, Herb Paris, wintergreen and blossoms of a rare old English breed a apple. Great great grandfather snail is the lagoon spire snail (thought extinct, but recently found in Chichester harbour)
Companion prints include Mercia Ribbons and Mercia bees, featuring details from this larger scale design.
£

240
Select options