Cream Posies wallpaper remnant
£240
Remnants of wallpaper that can be purchased for small projects. Sold for £1 per linear 10cm with the standard width of 70cm. This rolls is 735cm long (the full roll is 10m).
In stock
Description
Wallpaper remnants are available for the cost of £0.1/cm.
Related Products
Sale!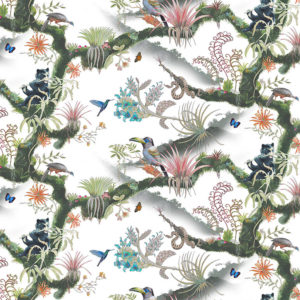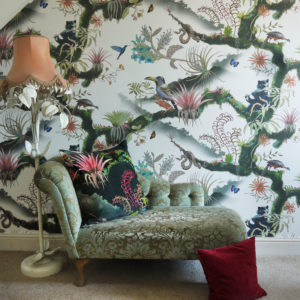 Madidi Clouds Wallpaper Stock
Stock sale
The Andean spectacled bear, a mysterious and endangered species and inspiration for Paddington Bear, was the focus of my years of study in the Andean cloud forest of Bolivia's Madidi National Park. During long periods spent alone for my research, I became obsessed with the intricate patterns and colour around me. Lichens, thin-lipped frogs, hummingbirds and toucans, along with my bears, were the subjects of my detailed drawings, and have formed the basis of this design. The composition of the design itself was inspired by a Josef Frank design from 1938 called Anakreon. His design was based on a 3,500-year-old fresco, discovered by a friend of Frank's, from the palace in Knossos on Crete.
The design repeats once across the 70cm width of the wallpaper on the medium scale design. This design is also available in a large scale on a wide width wallpaper, at 137cm.
With exquisite botanical detail, this design builds on biophilic passion in interiors for honouring the natural world. Furthermore, for every roll of wallpaper sold, 100m2 of critical wild Habitat is preserved through World Land Trust.
This is an eco-friendly Fine gicleé digitally-printed "real" wallpaper. It is printed in the UK on a natural non-woven cellulose-based substrate made from recycled materials – recycled polyester (PET) fibre and recycled wood pulp. The production process is solvent free with minimal waste and energy inputs.
£

240
Select options