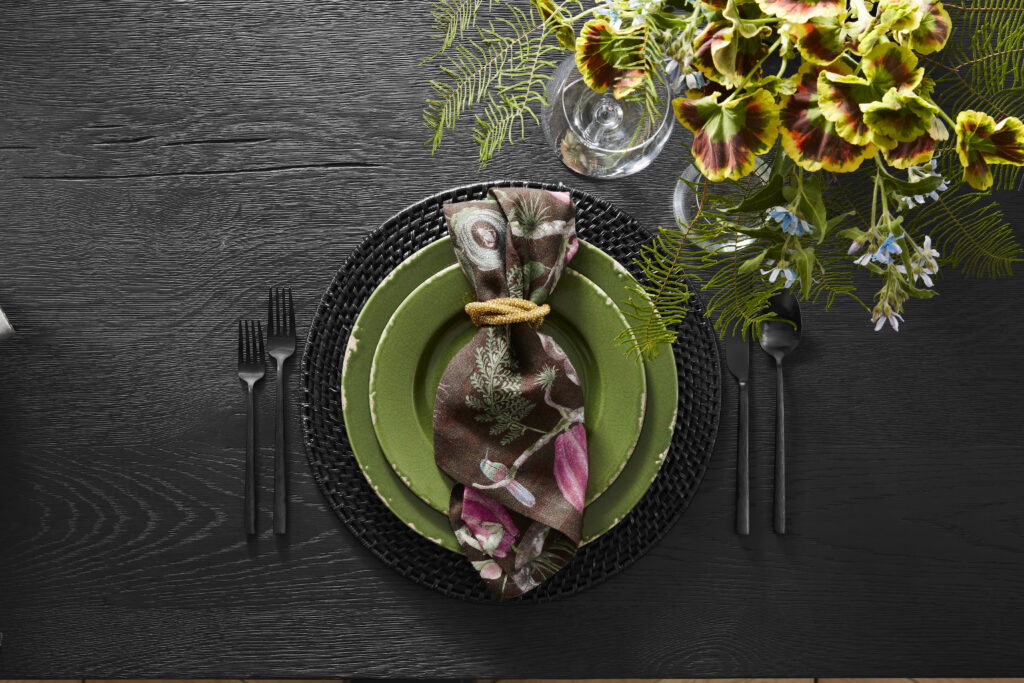 The Theobroma design origin story
The Williams Sonoma x Newton Paisley collaboration has its seeds in a friendship in a long-ago time in a far-away place.
It was summer, some 30 years ago, in the historic port city of Wilmington, North Carolina. Two young people waited tables together and became friends. Wayne and Susanna. The restaurant was Crooks' Corner, serving sensational Southern cuisine by Bill Neal: shrimp and grits, jambalaya, hoppin' john and ooo the chocolate black walnut poundcake…
.
Wayne was tall and elegant, with manifestly wonderful hair and luminous Celtic colouring. Even in those early days, he had an outstanding talent for presentation… of food, tables, flowers… with flair and meticulous attention to detail.
.
While Susanna was somewhat less elegant, and certainly less physically coordinated (she once spilled not one but two bottles of expensive red wine at the very table where the owner was dining with family) she did have a better tan than Wayne, and a cheerful demeanour which was well-suited to customer service.
.
While folding napkins and polishing cutlery for their evening shifts, the two used to discuss their plans and dreams. Susanna planned to pack the money she was saving, her biology degree, and her blank notebooks, and migrate south like a bird, maybe to Mexico or the Andean cloud forest, to draw and study wild beasts and generally get her boots muddy. Wayne aspired to a more refined, design-related future involving travel but altogether less mud.
.
When the two parted ways, Wayne gave Susanna a pop-up book which told the story of the Old Woman Who Swallowed a Fly. No one was quite sure why: either why she swallowed the fly, or why he gave her this book, but it provided some delicious foreshadowing for what was to come many years later.
.
Wayne and Susanna lost track of each other for 25 years or so until one day while scouting the internet in his role as Head of Product Design for Williams Sonoma, Wayne's eye was caught by a nature-themed textile design called the Carolina Tree of Life. It turned out to be by his old pal!
.
The design was all about the extinct Carolina parakeet and other precious flora and fauna (including insects) from that state where they met, and which they both pined for, her from England where she now lived, and him from San Francisco. Reunited, at least by phone and email, the idea for a collaboration was born…
.
Highlighting WS's commitment to sustainability, she would create one of her tree of life designs all about chocolate and the species with which it is interconnected.
.
Returning, briefly, to the old lady who swallowed the fly, the key challenge of the design was how to render the Ceratopoginid midges that waft around pollinating the tiny cacao flowers. Frankly, no one wants to look at midges, no matter how vital an ecological function they may perform. Susanna dealt with this problem by not exactly swallowing the fly, but she did sort of hide it, abstracting its microscopic form into a strange and beautiful flower…
.
For Susanna, as a long-time worshipper at the altar of chocolate, researching and creating the design, collaborating with Williams Sonoma and reconnecting with Wayne has been an absolute treat.
.
It all goes to show: you never know what seeds planted long ago will bear delicious fruit in your life.